Major US bank Goldman Sachs delivered impressive results on Friday, which were much better than the already very positive forecast. Goldman Sachs was just the latest in a string of US banking and financial institutions that have delivered very good results this week. Giants such as Citigroup, Morgan Stanley, Wells Fargo, US Bancorp, Bank of America and JPMorgan Chase have submitted quarterly reports with gold edges.
"Things have gone great this year, and there's been a complete flap across the board, with low losses and good financial markets," says investment manager and director Robert Ness at Nordea Wealth Management.
Portfolio manager Magnus at Sundal of Borea Asset Management agrees.
– Banks do well when the economy is doing well otherwise, and there is good momentum in the economy now. Sundal says loan losses are minimal, and the investment banking business is making good money from the high volume of transactions.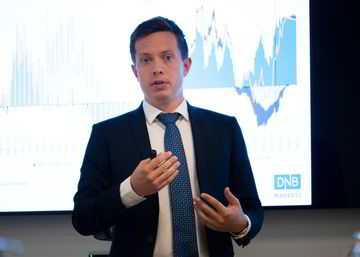 Quarterly reports from banks this week ushered in the so-called earnings season in the US, and good results strongly contributed to Wall Street's promise of the end of the week.
Waiting for a record quarter
Next week, Norwegian banks will begin submitting their quarterly reports for the third quarter. Ness believes in exhilarating reading and scoring slips.
It's time for the best quarter ever for Norwegian banks, says Ness.
Among other things, the Nordea Norge Verde fund is managed, which at the end of August owned shares in several Norwegian banks listed on the Oslo Stock Exchange, including DNB. Nordea, where Nice operates, is included in Sweden, Finland and Denmark.
Næss says earnings improvements for Norwegian banks are not significant, with earnings improvement expected of about 2 percent from the second quarter to the third quarter. He points out that there has been progress on all fronts, with low loan losses, good interest margins, healthy financial markets, and good velocity in the many collateral liabilities of banks, such as insurance and real estate.
He says parts of the bank loan losses that were taken into account last year have been reversed this year.
– Everything is going in the right direction, with good conditions for banks. There are no negative surprises, says Ness.
Poria's Sundal basically agrees, but thinks the third quarter could be a little weaker than the second. Unlike the large US banks, most Norwegian banks do not have a profitable investment banking business. The exceptions are the Markets branches of DNB and Sparebank 1 SMN, which make good profits, and insurance and real estate are also good business for banks.
– Things are going well in the Norwegian economy, we've seen that in the last year. For the third quarter, it will be the same for banks, but margins were still under pressure towards rate hikes. In addition, it will be interesting to follow the contribution from insurance other than life insurance, as well as any repercussions of loan losses, Sundal says.
– The numbers will be good. Maybe a little weaker than it was in the second quarter, but going forward I think they'll be even better. Sundal says the keywords will be improving interest margins and improving capital structure.
Norway's largest bank, DNB, will present quarterly figures on Thursday next week. The bank is expected to report a pre-tax profit of NOK 7.5 billion in the third quarter, according to estimates compiled by Infront for TDN Direkt. This is a significant improvement over the third quarter of last year, when DNB made a profit of NOK 6.9 billion.
At the same time, analysts expect a significant drop in DNB's loss provisions to NOK 256 million from NOK 776 million in the third quarter of last year.
Tough times ahead
But Ness believes bank managers and bank shareholders should not believe that growth will continue at the same pace, even though it looks good overall. He believes that bank earnings peaked in the third quarter, and are now stabilizing in the fourth quarter and next year.
Since this summer, the benchmark interest rate, Nippur, which is the rate on deposits with banks, has increased significantly, from 0.2 percent to 0.7 percent. At the same time, lending rates to clients, including mortgage clients, generally rose 0.25 percentage points, with a two-month delay.
So the banks' profits won't be good in the fourth quarter and next year, says Ness.
He says banks should raise interest rates if they are to return to the same interest margin as in the first half of the year. At the same time, he points out, higher interest rates will also make it attractive to save in the bank again, after a long period of nearly zero interest rates.
Sundal believes that banks will recover much of the interest margin by raising lending rates in line with Norges Bank, now 0.25 percent, while deposit rates will not be raised accordingly, perhaps only 0.1 percent.
Næss and Sundal also point out that higher interest rates give banks a higher return on the relatively large proportion of equity that banks have to have. Sundal thinks banks' return on equity will rise from 9.1 percent in 2020, to between 10 and 11 percent this year, and for some like Sparebank 1 Nord-Norge, Sparebank 1 SMN and Sparebanken Vest up to 12 percent.(Terms)Copyright Dagens Næringsliv AS and/or our suppliers. We want you to share our cases using a link that leads directly to our pages. All or part of the Content may not be copied or otherwise used with written permission or as permitted by law. For additional terms look here.
"Explorer. Unapologetic entrepreneur. Alcohol fanatic. Certified writer. Wannabe tv evangelist. Twitter fanatic. Student. Web scholar. Travel buff."