We were in the darkest corners of Death Valley at the beginning of the epidemic.
Technology entrepreneur Andreas Slatevoll, 40, looks back when the world stopped. His aviation-oriented technology company has just entered into an agreement with Norwegian. Then suddenly 96 percent of the revenue disappeared overnight when most of the world's aircraft fleet was grounded.
Instead, they invested heavily in technology development and emerged from the other side with air under their wings.
– We're much stronger and better equipped now, Slatefull says.
Now fast-growing startup Chooose is valued at NOK 1 billion in a new capital round that has movie star and investor Ashton Kutcher as owner.
doubled in less than a year
Chooose was founded in 2017 to help businesses and consumers understand their carbon footprint. The company is best known for selling tech products where consumers can choose to climate offset their trips, and it has giants like British Airways, Air Canada and Booking.com on its client list.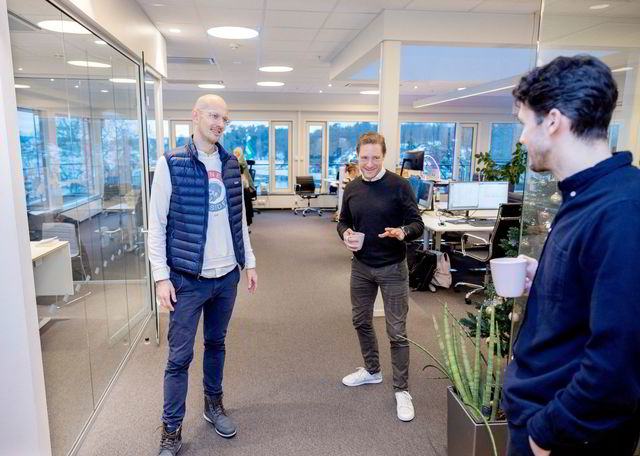 While many other growth companies, both private and listed, have had their values ​​downsized significantly over the past year and a half, Chooose has disputed that outpouring. In the past two years, the company has raised money at higher valuations than ever before.
– We see that climate technology in a broad sense appears to be more resilient than other technology sectors worldwide. We've had our crisis during the pandemic because we've been so exposed to global mobility. When this tech downturn hit, Slateful says, we had a headwind in our sails to get out of the pandemic.
Now he and the rest of the team are raising NOK 200 million in new shares to drive growth. Slettvoll doesn't want to comment on the valuation, but according to DN's experience, it was around NOK 1 billion.
When the company raised the money last summer, it was worth a half-billion. Thus, the value has doubled in less than a year.
– We're very satisfied with the valuation, especially when you see how the market is doing now, Slatefull says.
One of the largest government funds in the world, Temasek in Singapore, gets into the ownership side. So does the American project Sound Ventures Fund. It was founded by, among others, actor Ashton Kutcher, known from the popular TV series "That '70s Show" and several Hollywood films.
"It gives us room to grow, but we're still only in the beginning phase," Slatefull says.
– We do everything ourselves
Slateful, a former commercial lawyer, owns about eight percent of the company after the deal, which equates to a stake worth NOK 80 million. According to him, they did not have advisors or facilitators involved in the meeting with the 5,000 billion kronor Temasek and Sound Ventures fund.
– We do everything ourselves. We didn't have any advisors. We were also in the fortunate position of being approached directly by several investors, says the entrepreneur.
Before, they've had successful entrepreneurs like Tripadvisor founder Stephen Kaufer and Kayak founder Paul English on the ownership side. The early-stage fund Whiski Capital, in which the Witzøe family is the majority owner, is also involved. Chooose has just over 40 employees spread around the world.
Turnover will triple this year
Since its establishment in Chooose, the business volume has doubled every year. At the same time, costs have grown and the deficit is getting higher and higher every year, as is often the case in the initial stage of startups. Last year, the turnover was just over NOK 50 million with a deficit of around NOK 20 million.
This year, Slettvoll expects to triple its turnover compared to last year, to a total of NOK 150 million. But there will still be a deficit.
– We'll continue to lose money because our focus is on top-earning growth in 2023. We think we could be profitable at the end of 2024, but that's not necessarily a target. The entrepreneur says: We are doing everything we can to take advantage of the growth potential.
– Does the climate make up for your flights?
– Not at all.(Conditions)Copyright Dagens Næringsliv AS and/or our suppliers. We'd like you to share our statuses using links that lead directly to our pages. Reproduction or other use of all or part of the Content may be made only with written permission or as permitted by law. For additional terms look here.
"Explorer. Unapologetic entrepreneur. Alcohol fanatic. Certified writer. Wannabe tv evangelist. Twitter fanatic. Student. Web scholar. Travel buff."