– Suddenly everything turned black.
Robert Norum sits in an office building in central Stavanger and thinks of an autumn day in 2014. His entrepreneurial career was only a few months old.
– I looked out the window and saw a man in the electricity pole. Cut off the electricity to the house. Maybe we were a little late in paying the electric bill. But this is the case when you are an entrepreneur. Norum says the bill has been paid.
The timing wasn't ideal when in 2014 Nurum and partner Michal Lovik decided to invest in their own business. The idea was to make money by hiring skilled workers in the oil industry.
– Two days after the founding of the company, the oil market shrank, says Michal Lovik.
It was two difficult years before the price of oil in 2016 began to rise again. Now they are two well-established entrepreneurs. Recruitment firm Caera had sales of nearly NOK 190 million last year, and it expects to reach NOK 330 million this year. Last year, the result before tax ended at 4.73 million DKK.
Want to sell a baby
After eight years as entrepreneurs, the two plan to sell Caera.
How much they can get for the company they founded in 2014, they prefer not to over-talk about. But with prospects of continued strong growth and plans to hire industries greener than the oil industry, sales could quickly reach the 70-100 million mark.
Today, the company has 300 hired employees. The pressure in the Norwegian labor market means that Norum and Lovik believe the number will multiply several times.
Within three years, we believe in 1,000 Caera employees, says Norum.
renewable
In parallel with the investment in Caea, the two have built Aria Asset Management, which has several new investments in the renewable energy sector. Funds are now planned to be raised, both in Aria Asset Management and in core companies Windco, Energy Innovation and Eqon. In total, there may be problems in the category of hundreds of millions.
– We've spent our own money so far. Lovik says of the decision: We have faith in what we're doing, and we're confident we'll make it happen.
Windco hires technicians for the renewable industry, while Energy Innovation works with courses and trains technicians for the renewable energy industry.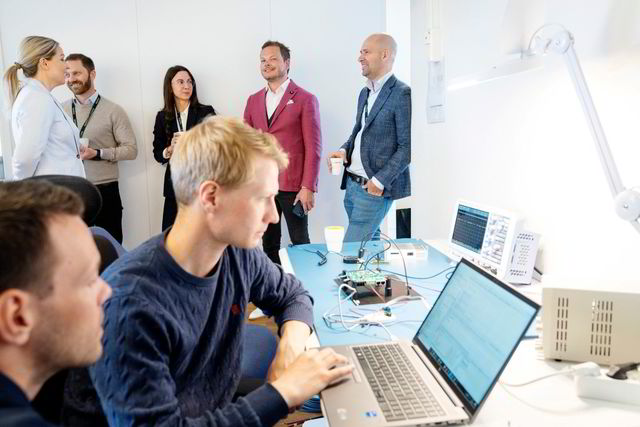 Will on the stock exchange
In the offices located in the center of Stavanger belongs the newly created Eqon. Norum and Lovik Lin brought in Catherine Hoy, former president of Berge Gerdt Larsen Petrolia Noco. On the board side are Smedvig's former chairman Rune Magnus Lundetræ and Anders Thingbø, the former top manager of listed shipping company Zaptec.
The goal of this company is to list on the stock exchange, says Lovik.
The product that will attract investors to the company is the Industrial Heating Cables Control Fund.
– Today, huge energy is wasted on the use of these cables, for example in marine installations. Our technology makes this possible with significant savings, says Løvik and points to a small box in the test room.
Drilling company COSL has entered into a contract worth NOK 12 million with the company. Eqon only believes that Norum and Løvik could be worth half a billion kroner next year.
– In 2024, our turnover is NOK 200 million and profit before tax is just over NOK 27 million, says Norum.(Conditions)Copyright Dagens Næringsliv AS and/or our suppliers. We would like you to share our cases using a link that leads directly to our pages. All or part of the Content may not be copied or otherwise used with written permission or as permitted by law. For additional terms look here.
DN Charts of Norwegian Entrepreneurs in Innovators of the Year:
"Explorer. Unapologetic entrepreneur. Alcohol fanatic. Certified writer. Wannabe tv evangelist. Twitter fanatic. Student. Web scholar. Travel buff."