After a year of sharply rising interest rates and weak purchasing power, dissatisfaction with Norwegian bank customers is greater than ever. Worst of all are the complaints from customers of the country's three biggest banks: DNB, Nordea and Danske Bank.
Over the past year, the big banks have been in the midst of the banking industry's rapid response to Norges Bank's interest rate decisions – but they have also been involved in a number of controversial customer mergers and acquisitions, which now appear to be making their mark in the largest annual measure of customer satisfaction in Banks.
– As pillars of the Norwegian economy, banks have a crucial role to play in turbulent times. They should not only be financially strong, but also bear their social responsibility. Clearly, customers are demanding more Bank to get money In the future, it is something that the banking industry must take into account, says Frederik Host.
He is the managing director of EPSI Norway, which since 2003 has been behind the annual surveys of banks.
Develop passive loyalty
This year's results, which are based on interviews with 6,000 businesses and individuals, show that customer satisfaction in the private market fell from 69.5 out of a possible 100 points last year, to 67.7 points now. This is the lowest level measured so far with the results of 2004, which were identical.
"Loyalty also has a clear negative trend," the report states.
Hyperinflation led to a wave of interest rate hikes last year. Banks do not necessarily blame themselves?
– Well, they are not the ones who set the key interest rate. At the same time, some banks may have contributed to the downside around this. Many of them were simply too poor in their communication with customers, and this diminished the overall impression, Host says.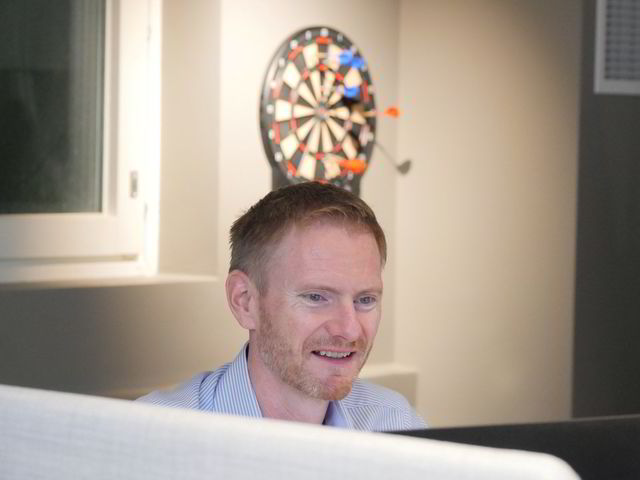 The report shows that banks are receiving, among other things, reprimands from customers for not providing enough clear information about interest rate increases, of which there have been many in the past year.
One in four bank customers now say they are considering changing banks in the next year. This is a high rate in a country where bank customers have historically tended to be loyal.
"In addition, we are seeing a clear increase in the proportion of customers who do not care which bank they use, as long as their conditions are good. We at EPSI believe this is an indication that more Norwegians will evaluate their banking relationships and change banks in the coming year," says the report.
DNB: We will do everything we can
Norway's largest bank, DNB, received just 61.5 points in this year's survey. This is the second worst result in this year's measurement, and the bank's worst in 20 years. According to the report, "a large percentage of customers are now dissatisfied."
"DNB receives good feedback about its digital solutions, and performs well among younger customers. However, the overall impression is that DNB is too passive towards customers, and is less able than other banks to meet expectations in terms of service and follow-up. Many customers feel DNB says they are not being prioritized enough."
DNB's acting head of communications, Kari Vardal Reis, wrote to DN that the bank was not satisfied with the results, even if the industry as a whole was lagging behind.
-We are passionate about doing everything we can to be there for our clients and provide them with good financial advice. There is strong competition in the Norwegian banking market, and there are more than 100 banks competing for the same clients, DNB writes.
Jumbo space
However, it is clearly Danske Bank that holds the top spot this year with the least satisfied customers. Customer satisfaction fell by nearly seven points to just 57.7 points in this year's survey, which "attests to a combination of desperation and frustration," according to EPSI. According to the survey, up to 72% of customers are considering changing banks.
Earlier this year, it became known that Danske Bank is withdrawing from the Norwegian retail market, and according to the study, there are "a fair number of customers" who do not understand the consequences. In July, it was announced that Nordea would take over management of its 285,000 personal customer portfolio, but the agreement is dependent on approval from the Norwegian Competition Authority.
– Satisfaction among customers is naturally affected by the announcement of Danske Bank's Personal Market Sale. This has understandably created some uncertainty among customers. Therefore, we have spent a lot of time recently reassuring customers that there is still a long time before the customer relationship is transferred to Nordea, and that we will keep customers updated along the way, answers Marthene Budd-Fick, Head of Personal Markets at Danske Bank, In the email.
Challenge to the top
In all the years since 2004, it has been Sbanken that has topped the throne in the surveys with the most satisfied bank customers in Norway. But now DNB has been swallowed up, a merger that was hotly debated. The report notes that many of Sbanken's clients "have no connection to DNB."
Instead, Boulder Bank had the highest number of satisfied customers in this year's survey, with a score of 79.2 points. The bank has achieved strong customer growth and is characterized by competitive conditions and "good digital customer experiences," according to this year's report.
– We are ecstatic, writes Boulder CEO Simen Eilertsen in an email.
– Boulder was founded to challenge the industry and we were only four years old. Our arrival at the top actually happened a few years earlier than we thought. We still have a lot to do before banking becomes as good as it can be! He writes that this gives us more fuel on the fire. (conditions)Copyright Dagens Næringsliv AS and/or our suppliers. We would like you to share our cases using links that lead directly to our pages. No copying or other use of all or part of the Content may be permitted except with written permission or as permitted by law. For more terms see here.
"Explorer. Unapologetic entrepreneur. Alcohol fanatic. Certified writer. Wannabe tv evangelist. Twitter fanatic. Student. Web scholar. Travel buff."