In order for humanity to have a future, we need a clear sustainable energy plan. I am not the one who demonizes oil and gas, this is necessary, otherwise we would not have civilization. We need more oil and gas, not less, says Musk from the opening stage of the ONS Oil Show.
Musk highlighted three pillars of the energy transition: increased production of renewable energy, battery technology and more electric vehicles, including cars, trucks and planes.
– I'm also for nuclear power plants. If you have a well-designed nuclear power plant, you should not shut it down. Especially now, he says.
Musk says many times about the importance of batteries and battery technology.
Sometimes the wind blows, other times it doesn't. And sometimes it blows very badly, so you have to create a buffer with battery packs. Tesla and other companies are working on it.
Furthermore, Musk notes that he believes there will be major changes in the future:
By 2030, I think half of all new cars will be electric.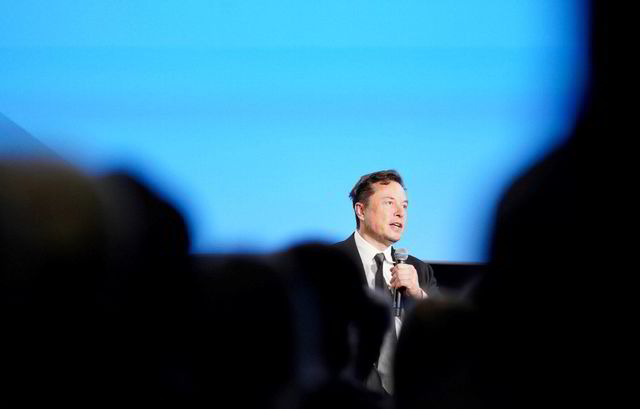 Thanks Norway
Earlier on Monday, Tesla founder Elon Musk met with reporters on his way to the big ONS conference in Stavanger.
On his way to the conference, he said, "I am grateful for the support given by the Norwegian people to electric cars."
He attended the opening of the Oil Show, with Prime Minister Jonas Gahr Store (Ap) and Crown Prince Haakon.
No country in the world has more electric cars per capita than Norway, according to figures released by the government last year.
Around 12 noon the fire alarm went off in the exhibition hall, which is closest to the hotel where the main conference is being held. It was activists from the "Stop Oil Drilling" campaign within the "Extinction Rebellion" campaign who raised the alarm, and one of them confirmed to reporters outside the hall. As hundreds of visitors left the hall, he stood up and advised the government that they should stop drilling for more oil and gas on the Norwegian continental shelf. Three other activists appear to have attached their hands to the wall outside the hall.
However, the conference itself, where Musk was speaking at the time, was not interrupted by the fire alarm.
– Create more children
Moreover, Musk told the press that there is still a need for oil and gas in the short term, while there is a need to make progress in sustainable energy development.
– I think we need oil and gas in the short term, otherwise civilization will collapse. For society to continue to function, we need oil and gas, especially in these times of Russian sanctions. He says, I think everyone would agree.
Asked by a reporter if Norway should look for more oil, Musk replied:
– I think more research is needed now. But he also continued to support the transition to electric cars. I wonder if Norway could produce more hydro and wind energy additionally, and possibly export it to southern Europe.
Musk also indicated that he was concerned about the low birth rate, describing it as a child crisis.
It is important that people have enough children to support the community. Musk, who has nine children, said he would have more children.
Musk landed on a private jet at Sola Airport on Monday morning, then was picked up by a Tesla and drove to Stavanger.
ONS, colloquially referred to as the Oil Show, has been held since 1974. Musk also attended conference in 2014.
Twitter epic
There has been a storm around the Tesla founder in the past six months after he announced on Easter his desire to buy Twitter. After initially uncertain whether and how Musk could fund the purchase, Musk and Twitter's board of directors entered into a $44 billion purchase agreement.
The saga continued as rumors that Musk would withdraw from the deal began circulating online. Musk mentioned that Twitter was Withheld information About how many Twitter accounts were "bots". In early July, Musk announced that he was giving up on buying Twitter. Then the head of Twitter responded by announcing a lawsuit against Musk, who a few weeks later resisted Twitter. Five days have been set aside for the trial, which is expected to begin on October 17.(Conditions)Copyright Dagens Næringsliv AS and/or our suppliers. We would like you to share our cases using the links that lead directly to our pages. All or part of the Content may not be copied or otherwise used with written permission or as permitted by law. For additional terms look here.
"Explorer. Unapologetic entrepreneur. Alcohol fanatic. Certified writer. Wannabe tv evangelist. Twitter fanatic. Student. Web scholar. Travel buff."