For seven years, Germans Matthias Presser (39) and Richard Felix Heinrich (40) have achieved rare growth success.
Backstube bakery chain, recently swallowed up by food group Jordanes, now sells pretzels, pretzels, borek and other yeast baked goods for a few hundred million kroner a year, spread out in about 40 outlets.
Here, they tell for the first time how they turned yeast bread into a superstore in record time.
Bet everything they have
Bresser and Heinrich met during Godfather Week at the University of St. Gallen in Switzerland in 2005, where they both had bachelor's degrees in economics. Heinrich was introduced to Norway during a short exchange stay at BI Business School, and obtained his master's degree at Norwegian Business School (NHH) a few years later.
After graduating from school, Heinrich started as a seafood and shipping stock analyst at the Norwegian brokerage firm Pareto Securities, where he remained until 2015. In the same year, he traveled to Botswana, where Presser worked as a consultant for a German aid organization.
Heinrich had witnessed a German-style bakery market.
– We walked around there and talked about possibility. I said that the Norwegian students experienced that bakery products were very expensive compared to other countries, and that the presentation and selection was not quite where it should be. This is how it began, says Heinrich.
– Then we actually bet everything we have on him.
"Are you kidding me now?"
For the first seven or eight months, the duo traveled and visited various bakeries. They sampled the range of products, talked to employees, calculated costs and counted the number of customers. The first store opened on Solli Plass a few weeks before the summer holidays of 2016.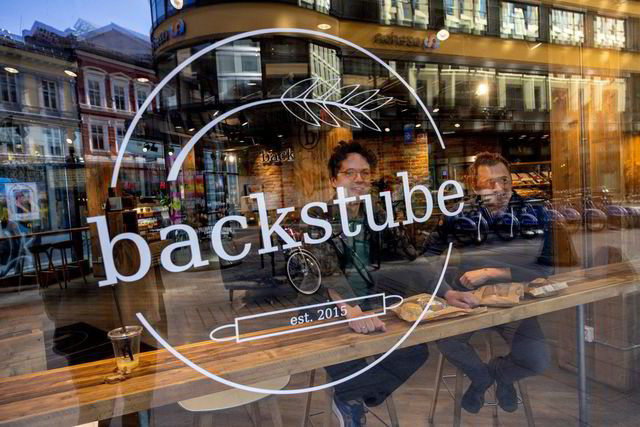 Even the Germans pushed a tight budget to build a low-cost series.
– All savings went towards the purchase of ovens and equipment, plus the deposit on the first lease. In the first store, we bought the used oven to keep investment costs down. We knew there was a market, but we didn't know if we were going to hit the concept and make it profitable," says Heinrich, adding:
– We were counting on it, we are both economists. At the same time, we didn't know how much we wanted to sell. At first we sold too many different items, then we continued what went well and we eliminated what went poorly.
– What do you know about baked goods?
– We ate it and loved it, but we don't know anything about it, says Presser.
– What did Pareto's colleagues say?
After the new opening, some former colleagues came and, like a number of friends and acquaintances, the feedback was positive, with a touch of healthy skepticism. It was even worse when the grandmother said "Baker, you? Are you kidding me now?" Heinrich says.
– Think of everything
The founders say the breakthrough came in 2018/19. In that time, they've established five outlets in Oslo, and have seen the concept work just as well in the city of Oslo as it does in Twyn and Torchov. The outlets are self-service based, and in some places combined with a tabletop solution.
– Suddenly we got weekly emails from real estate developers who asked if we could prove ourselves to them. Then it was no longer us who had to present a concept in PowerPoint, which they couldn't handle anyway, Presser says.
Food on the go has become a part that coffee shops, kiosks, and grocery stores are all trying to get involved with.
The founders say that their competitors are "everyone who sells food," and they don't share the opinion that the Norwegians are so good that they don't care about the price.
– There are a lot of price sensitive people out there, who wonder why things have to be more expensive, than people think. Our starting point was that three croissants for NOK 15 are as good as one for NOK 40, as long as you have a good contribution to cover it. Heinrich says this is about the price sensitivity we've always believed in.
In the start-up phase, the founders stayed out of debt, doing as much as they could on their own. Presser still holds the accounts. They have clear opinions about what was important to Backstube's success.
– Think and calculate everything. Feasibility studies are usually very optimistic, Heinrich says — there are only a few that do better than expected.
Try lots of different things. We have many different coffee machines, refrigerators, and even cash registers. We've adapted to customers along the way, Presser gets involved.
imports
All goods in the form of dough blanks are imported from abroad, which are much cheaper than Norwegian bakery products.
Presser and Heinrich decided early on that products should be imported as far as possible from the countries of origin, which meant finished products from Germany and croissants from France.
We want the products to be as original as possible. It shouldn't be a mild version of borek because you think Norwegians would like it better — it should be authentic, says Heinrich.
– We want to avoid heat-treating products before they get here. We want all the proofing and baking in the store. It comes down to logistics, freshness, and customs fees, Presser says.
With the high level of imports, Backstube is naturally affected by the strong devaluation of the krone.
– There is an explosion in the cost of everyone who imports. It's also hard for customers, because we have to keep it going. Many have secured themselves with long-term contracts, but you'll feel the larger costs when they expire in the fall.
– You felt right
Last year, the chain had a turnover of NOK 217 million. This year, sales volumes will be "significantly" higher, without the founders wanting to reveal any concrete numbers. They see no signs of declining demand or losing market share, and believe that even an economic downturn could benefit a low-cost player like Backstube.
Recently, the founders sold Backstube to the listed Jordanians, with a settlement in an unknown number of shares of Jordanes.
– They looked at us, and we looked at them. Heinrich says there are many people who have shown interest, but they were the first to make contact and we would like to meet them often.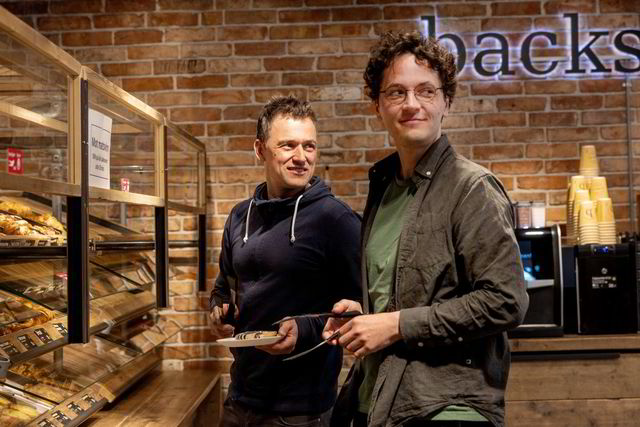 Jordanes announced several weeks ago that the company would be listed on the Oslo Stock Exchange, but there has been no further news. Jan Baud and Stig Sond stand behind Jordanes. The company also has investor Jens Ulltveit-Moe on the ownership side.
– We think these are really good people who have done a lot for Norwegian grocery stores. They're very adept at branding, and they saw great opportunities and synergies that we hadn't even considered. I felt right, says Heinrich.
Heinrich and Presser deny that they will sell the company through an IPO.
– No no. We have great faith in the company and we'll be an owner there, at the same time we're actively involved in the process. Things continue as before.(conditions)Copyright Dagens Næringsliv AS and/or our suppliers. We'd like you to share our statuses using links that lead directly to our pages. Reproduction or other use of all or part of the Content may be made only with written permission or as permitted by law. For more terms see here.
"Explorer. Unapologetic entrepreneur. Alcohol fanatic. Certified writer. Wannabe tv evangelist. Twitter fanatic. Student. Web scholar. Travel buff."