Hotel Elgstua will be expanded to include 40 rooms and a new conference department.

– We have great faith in Elverum, and Elgstua Hotel delivered very good numbers. We look forward to continuing, says Elgstua AS CEO Hanne Slettjord Tømte.
Hotellmagasinet.no meets the cheerful and outgoing hotelier and restaurateur outside Elverum's most popular restaurant and attraction, Elgstua: the café has been here since 1959, and next door is the 107-room hotel and its associated Favn Bar & Spiseri restaurant.
The hotel celebrates its tenth anniversary next year.
As if that weren't enough: across the bridge – in the city center – is Hotel Central with 83 rooms, the 2 round table restaurant, and the city's famous bar, nightclub and concert arena, Central Scene.
Recently it also became known that the hotel that Hanne owns in Vinstra will become part of the Thon Partner Hotel.
Tough start in a new industry
In the fall, Hahn moved to CEO of Elgstua AS, which operates the two hotels in the city. In 2019, she bought 50 percent of her father's operating company, and has the option to purchase the remaining 40 percent.
COO Niklas Lindström (46) owns the last 10 percent. He is a very experienced man in the hotel industry and after many years in Oslo he settled in Elverum.
Shortly after Hahn became CEO, his father John Tomete, who had been a central figure in hotel and restaurant management in Elverum for several years, died suddenly.
– I am glad to have an experienced hotelier in the team at the company. It's hard to stand alone. And it is important that there are good people in the team. My father taught me that the best thing is to be with people who are better than you. She says there is a great group working here.
In 2017, Hotel Central was purchased, and at the same time work began on the renovation and reconstruction of the hotel, nightclub and restaurant Favn Bar & Spiser in the Elgstua Hotel.
A total of around NOK 125 million has been invested.
"I was quickly thrown into it by buying Hotel Central and renovating, but I learned a lot in a short time," says Hanne.
Invest new millions
Now Elgstua Hotel will be expanded with 40 new rooms. An investment is planned in a new conference section with associated meeting space. The development will double the current capacity of 180 participants.
– A large attendance of the conference section. We have participants from all over the country and from Oslo, she smiles.
If all goes according to plan, occupancy will be through 2023. In addition, the restaurant at the city's Central Hotel, previously built directly in front of the hotel, will be demolished to make way for a new and "airy" entrance area.
The total cost framework for the Elgstua Hotel expansion will be approximately NOK 60 million.
– Elgstua is very well visited by vacationers and as a conference hotel. After the acquisition of Hotel Central, occupancy was up about 40 percent, but we have more to go on. We may choose to implement the project with Elgstua in two construction phases, but we have not decided on that. We're looking forward to seeing the end result," says Hanne.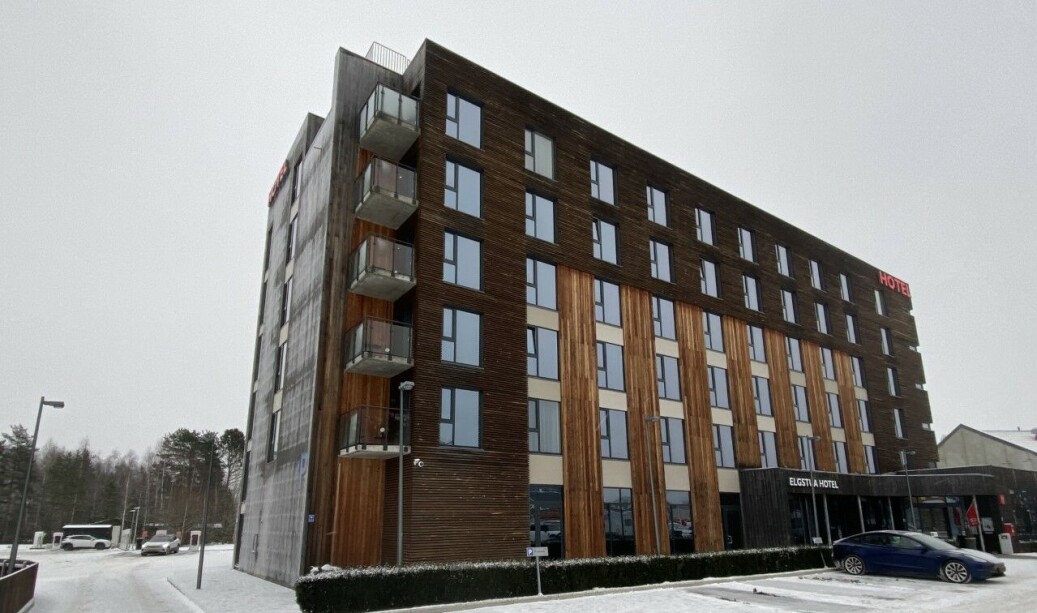 It is not easy to fill two hotels in the same city. What is the key?
– Hotels offer different concepts. And that's also what's exciting: creating concepts guests will appreciate. We have a huge range of activities in Elverum, and we do themed evenings, which are very popular, says Niklas.
– We are constantly working with the college, and earning money is a key factor. But it's important to do things in the right order and in control, Hanne argues.
Consider new investments
The 37-year-old has a background in officer training and is a trained teacher. She worked for several years as a teacher in Oslo and Bjerum before moving in 2017 to her home in Elverum to work in the family business. Han is married and has three children. The last born came just seven months ago.
– My husband is on vacation now, so I have a chance to work even if I'm more flexible than usual. In this industry, she says, you always have to be good.
Are you thinking of buying other hotels in the area?
– We are following the market. I do not rule out that we will strike if the right thing turns out, says Han Sleetjord Tomete.
"Explorer. Unapologetic entrepreneur. Alcohol fanatic. Certified writer. Wannabe tv evangelist. Twitter fanatic. Student. Web scholar. Travel buff."